We are proud to present you our new snowkite brochure for the Snowkites 08. The brochure includes product pages for the all new Snowkites AccessXC; FrenzyFX and MantaII|
New Snowkite Brochure available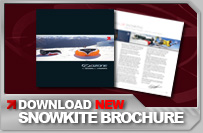 We are proud to present you our new snowkite brochure for the Snowkites 08. The brochure includes product pages for the all new Snowkites AccessXC; FrenzyFX and MantaII
Plus some words from Chasta and our Pittarak Team that crossed Greenland from South to North travelling 2300km with our kites. In one 24hr non-stop kite session they travelled 412km!
2008 Snowkite Control System Flyer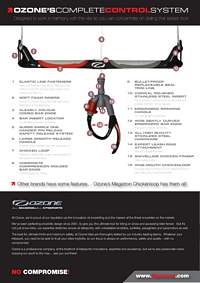 Over one year in the making Ozone's New Molded Chickenloop design is here for the 08 Snowkites and 08 waterkites
Easy to operate, wide mouth for hooking in our out easily
Passes the requirements for the AFNOR EU Norms for Chickenloop
Top handle spins for easy line un-tangling
Expert leash attachment
Fits into bar for perfect connection (male to female)
Fool-proof release system and easy to re-connect with one hand
Wear proof chickline (But is replaceable in case of failure by accident)
NZ Snowkite Trip Slideshow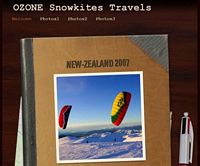 Chasta, Dom, myself and Pascal spent five weeks in august traveling across the New Zealand searching out new snowkite spots.
Here is the slideshow which shows just how amazing New Zealand is for kiting, feel free to use the slideshow on your webpages as a link
click here to watch the slideshow
Have you ever dreamed of enjoying the
mountain in its purest form without the
hustle and bustle of a ski-resort? Of getting
to the top without queuing for the ski-lift?
Or looked across at clean, empty mountains
wishing you could access all that powder
and terrain?
Then you need snowkiting!
Snowkiting is the ultimate dream. To us at
Ozone it's about getting out there and using
the power a kite gives you to cruise, slash,
jump and carve your way across snowfields,
mountain ranges, ice-caps and even your
own backyard. Snowkiting up-hill is as much
fun as the decent without the kite; you'll be
blasting across all over the mountain, free as
the wind!
You can climb 1000m in 10 minutes or kite
across the terrain that you dream to ride,
not where a resort dictates. You have 100%
control and thanks to our parafoil design, with
an Ozone snowkite you just un-wind and GO!
Snowkiting also extends your winter
seasons; we are typically the first winter
sports enthusiasts enjoying the first
snowfalls, and long after the resorts close
in April you'll still find snowkiters loving
the spring snow.
At Ozone we've been perfecting snowkite
design since 2001, to give you the ultimate
tool for kiting on snow and accessing killer
terrain. If you love the snow and are a
snowboarder or skier who wishes you
could ride when and where you want,
then snowkiting is for you!
The best for ultimate performance and
maximum safety, Ozone kites for 2007/8
have been tested all over the world by
our industry leading team of riders and
designers, including snowkiting legend,
Guillaume "Chasta" Chastagnol.
Life is for LIVING! So this winter, go
snowkiting: it opens up a whole new
world just ready for the taking.
Matt Taggart and all the Ozone Team
Matt
Taggart
POWER TO FLY
FREEDOM TO EXPLORE
THE OZONE CREW
Ozone is a professional company, at the forefront of kitesports innovations and
excellence, but we're also passionate riders, enjoying our sport to the max …
See you out there!
MATT
Taggart
DOMINIK
Zimmermann
ROBBIE
Whittall
HUGH
Pinfold
Snowkiting is hard to beat as a
sport; it offers total freedom, no
lift queues and a fresh sense of
adventure every time you ride.
Its my favourite fix!
Fave Kites:
6m Access XC, Frenzy FX 9m and
the Manta II 12m. The ultimate
snowkite quiver for all wind
speeds and conditions.
Riding:
160 Board – Stance 15/12
Fave moment:
Backcountry on Hector Mountain,
New Zealand with Chasta and
Pascal!
I saw a photo of snowkiting some
8 years ago. It looked amazing, so
when the snow came I had to try it
for myself. My first attempts were
slightly out of control but I did ride,
and the feeling I got has kept me
addicted ever since. I love all
adventure sports but nothing does
it for me like snowkiting.
I remember riding in Norway with
the Ozone team. With perfect
conditions we cruised far and wide
across the snow covered landscape,
only stopping when we found wind
lips and features to launch off and
powder to rip up. Memories so
good I will take them to my grave!
My quiver…Manta 10m for everyday
riding, Frenzy 11m for the light winds,
Access 6m for the strong wind and
my new Manta 15m for flying.
I started snowkiting about 8 years
ago and one day I came to the
Lautaret Pass and saw the guys
riding in the mountains. That was
the point where it all turned around
and a new world opened up for me.
Since then all I'm looking for is
mountains or backcountries. I
practice all kind of kitesports but
snowkiting is my favourite by far.
I use Frenzy FX 13m for light winds
plus the 9m. Access 8m and 6m
for backcountry and mountains in
strong gusty conditions, wearing the
new Access XC harness as backup
above my waist harness. I always
have a backpack with me with a
smaller kite plus tea or water and
chocolate bars. Using touring skis
plus skins and telescope poles to
get back if wind stops.
Ride safe, Dom.
THE OZONE CREW
I followed the winter for 6 seasons in
a row, snowboarding in the States/
Canada and NZ. Then I discovered
kite-sports about 6 years ago and
haven't looked back. Snowkiting for
me inserts the missing link in the
sport of snowboarding.
With snowkiting once you have your
gear you are no longer limited by ski
resort facilities or boundaries. For
free you ride all day with your mates
where you want, sessioning natures
transitions, untouched powder, and
literally flying down the sides of
mountains, ye-haaa now that's living!!
Kites of choice;
Frenzy FX 13m tractor for light winds,
the Manta II 10m jumping machine
for high winds and the 6m Access XC
for nuking winds or teaching friends.
Guillaume
CHASTA
Chastagnol
SIGVE
Botnen
I started snowkiting in 2001. This was totally new to me, but I found out
how it worked with a friend. This was so cool! You can go where ever you
want to go, uphill, downhill, jump, fly, so many possibilities. I got hooked
straight away, and wanted to be out kiting all the time. For me it's all about
having fun, pushing the level of kiting, being outdoors and doing a sport
you can master. I push the wake-style with my friends. It feels so good
when you have a new trick in hand, or you go full speed in 20cm powder.
It's hard to put the feeling into words, just a super good feeling. I also do
water kiting. It is nice to do both; snowkiting and waterkiting. When you
have been one winter on the mountain it feels good to go back on the
water and opposite. It never gets boring.
KARI
Schibevaag
I grew up in the mountains and miss it when I'm not there! It's the fresh air,
space and using the power of nature that makes snowkiting special. I never
get bored of the possibilities, or the amazing scenery! Snowkiting doesn't just
mean big air or jumps; pack a bag and go; uphill, downhill, from cabin to
cabin! Imagine a day with bluesky and a kite in the air taking you where you
want to go – you might be the very first person on that exact spot.
Kiting is easier to learn on snow, and it's a sport anyone can enjoy, young or
old! You don't need to be an athlete or need as much power or wind to get
moving, but it's important to have someone teach you so you know how to
control and manage the equipment and the elements. Take care like in any
mountain sport, and then go enjoy!
PASCAL
Boulgakow
I started snowkiting about 3 years ago. There are four ways about this
wonderful sport: cruising around, freestyle, flying, and freeride
backcountry. The last one is definitely my favourite. I prepare each of my
session with this main goal, going as far as possible, slowly, enjoying the
powder, the game with the wind to cross the hills, the valleys, the
mountains, and come back.
I use two Ozone kites; the 10m Manta II and the 6m Access XC.
I wear the new XC Harness, and I go with mountaineering skis, with
skins and poles to come back if the wind stops. I'm 50 years old, and a
grand-father, that means everybody can learn and manage snowkiting!
3
I started snowkiting 8 years ago at the Lautaret pass, in the steep
mountains. Right away I understood that this was my 'free' lift ticket,
and perfect to discover new spots around those beautiful glaciers.
Then I met the Ozone Crew, and got the best foil kites; easy to kill at the
top of the hill, and easy to pack for snowboarding down again. We're all
addicted to riding the mountains in 3 dimensions, and see the potential of
riding new spots all around the world!
My quiver…12m and 10m Manta, and 8m for sure, plus my normal
harness with a climbing harness.
So, see you on the spot soon!
CHICKENLOOP
3 lines from the bar: the middle power line is a 500kg
line, splitting in a Y to each side of the speedsystem kite.
GOODFOR
Really improving the kite's turn, reduced parasitic
drag, increased speed and no twists in the lines.
USEDON
Frenzy FX • Manta II
Y-LINE
Robbie has also modified the kites bridal design
with the X-Line which crosses the speedsystem.
GOODFOR
Creating a barrier that blocks the kite from being
able to BOW-TIE.
USEDON
Frenzy FX • Manta II
X-LINE
5
ALL SEASONS>>ALL KITESPORTS
NEW
Our NEW, moulded Megatron Chickenloop is easy to
operate, with a wide mouth for hooking in and out
easily. It passes all requirements of the AFNOR EU
Norms for Chickenloop releases in emergency
situations.
GOODFOR
Spinning top handle for easy line un-tangling, with
suicide leash attachment, fits into the bar for perfect
connection (male to female), fool-proof release system,
easy re-connection with one hand. Bullet proof Beal
trim line will never wear out, though it is replaceable
in case of failure by accident.
The Ozone RE-RIDE safety system is the original
and finest safety system for depowering kites. It
could not be easier to use: simply reach up and
grab the RED safety handle, pull down and the kite
remains connected to you but without power. It stalls
and lands neatly downwind of you ready for you to
re-connect the system.